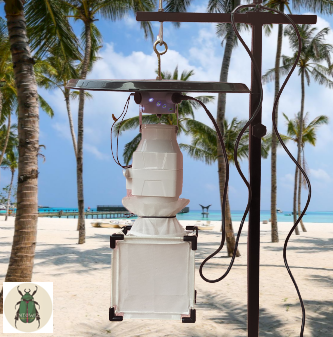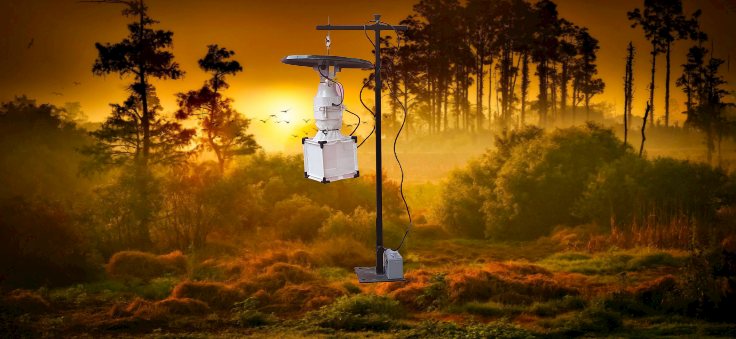 UV light trap on CDC model with Photoswitch LI-MR-47b
Non-returnable
UV light trap to collect various haemophagous insects that are medically important. Mosquitoes, sandflies and other vectors can be collected for various studies. Please download product brochure
here
. Please read installation
instructions
here
carefully or else you will damage the trap. CO2 accessories or upgrade set can be found
here
Light trap is available for purchase on GeM

Click here CO2 accessories or upgrade set can be found here
Look for field professional entomologist kit here and field insect collector kit here and mosquito larval sampling kit here. These kits are very much handy as each of the kit consists of all of the items that are required for an insect collector or an entomologist to do research sampling in the field.
CDC style UV light trap with black light set up for studying insects. The unit has been tested against various insect species and is capable of catching Aedes mosquito in doors. The unit has been constructed keeping in view of field and rugged conditions. The fan assembly is not visible outside which is cased in a ABS shield casing as shown in the picture. The unit has a rain shield to protect unit from rain. The trap is supplied with two insect collection cages which are removables. One cage can be installed and the other can be used to replace the existing cage in the next day to replace the old. No need to work in the field with mosquitoes as the cage can be carried to laboratory and work with the same at convenience. One field bag will be provided to hold all of the items together. One unit of 6v 7ah will be supplied. Recommended to buy at least two more batteries of same capacity and one powerful, auto-set charger to use the trap conveniently. The other items are need to be purchased separately.
The trap power on/off can be regulated based on real-time controller attached to the trap's unit. A total of 5 variations per day can be set up and is extremely useful to study bionomics of vectors. For example, the trap can be modulated to switch on by 6pm and off by 8pm. Similarly, when four traps installed in the field with varied time on/off, the next day morning recordings will provide insights in to peak activities of insect species.
Contents:
1 trap assembly | 1 light weight cages | one battery | one field bag to carry the contents | 1 Mouth Aspirator
Recommended Accessories: Field installation height adjustable stand, Additional Batteries, AC power adaptor (helps run the trap on AC power, 5m cable for distant installations), Battery Charger, and a Mechanical Aspirator
Download product brochure here
Download product installation instructions here