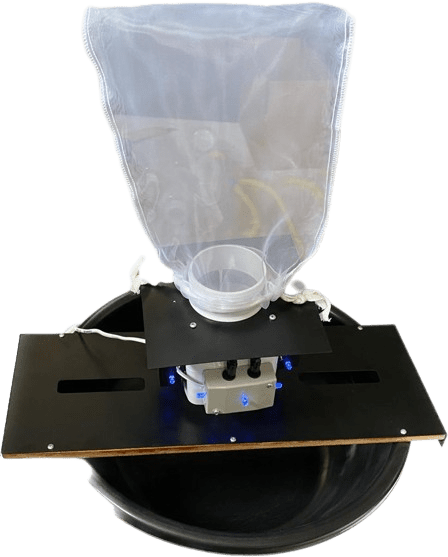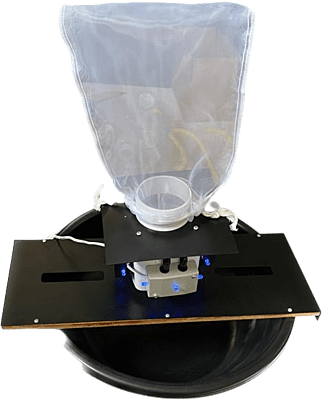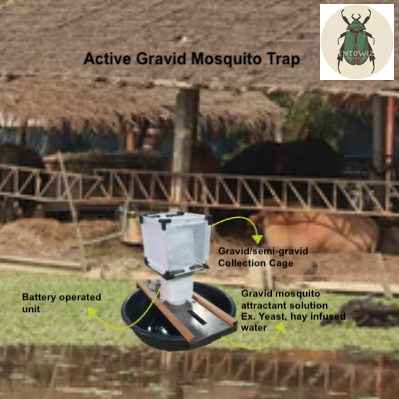 insectPRO Active Gravid cum Light Trap (AGLT) for Mosquitoes
Non-returnable
The insectPRO active mosquito gravid trap (AMGT) helps to capture full and half-gravid mosquitoes. These captures are helpful for various laboratory studies to study and analyze the blood feeding behavior of mosquitoes or to incriminate possible vector species. Others like ovitraps, containers, and oviposition suitable egg collection papers are available. For study design and data analyses for studying larvicidal properties refer this review publication
Recommendations
1. to capture blood fed mosquitoes for analyzing various bionomics of species 2. capturing gravid and semi gravid mosquitoes are possible 3. capturing mosquitoes for parasite incrimination studies 4. to capture aedes mosquitoes or day biting mosquitoes
Care Instructions
Since the unit consists of various electronics general care must be given as to all electronic goods deserves. Never drop the unit down to the ground which may damage the unit
Product Details
Specifications
The
active mosquito gravid trap (AMGT)
helps to capture full and half-gravid mosquitoes. These captures are helpful for various laboratory studies to study and analyze the blood feeding behavior of mosquitoes or to incriminate possible vector species. The bottom dark color container can hold up to 10 lit
of water. These waters can be mixed with either oviposition attractants or hay water or simply put some amount of yeast to get the mosquitoes ready with eggs to get attract to the trap. The trap runs on
4.5 to 12v
blowing unit that blows attracted mosquitoes into the cage containers. The outer ring of the blower has fitted with four UV LEDs to act as an attractant. The trap can be safely placed inside the house to collect Aedes mosquitoes or be placed under or around animal dwellings to collect anophelines or culex mosquitoes. The sampling using the trap could be used to
study blood preference behavior of mosquitoes
,
vectorial capacity of a species
, efficiency of
vector control interventions
, effect of
LLINs on the breeding potential of the indoor mosquitoes
and the
repellency of the LLIN chemicals under indoor settings
, analyses of blood feeding behavior and others.
What is the use of active gravid trap?
Active gravid trap catches the mosquitoes that are blood fed and ready to lay eggs. The trap helps to capture blood fed mosquitoes to analyse them further for blood feeding preference and for studying other entomological parameters
How is the insectPRO active gravid trap differs from the oviposition trap?
The oviposition trap is a passive trap while the active gravid trap consists of electronic components and a blowing unit to force capture the mosquitoes. In general the insectPRO active gravid trap also works as a oviposition trap in addition to that the trap helps to capture live insects for further studying entomological parameters
What is the main difference between passive oviposition trap and insectPRO active gravid trap? and how insectPRO active gravid trap helps to capture more number of samples compared to passive trap?
There are two main differences between active and passive trap. The first one is that the passive trap will help to get you oviposition index wherein we get eggs from the mosquitoes and no live insects are get trapped in the passive trap. In comparison to that the insectPRO active gravid trap helps to capture the live insects that are blood fed and/or gravid or semi-gravid insects. These samples can be further be used for studying bionomics of insects like blood feeding preference, fecundity, life span of local mosquitoes, oviparity, etc.
How insectPRO active gravid trap attract insects? How is it differ from the ovitraps or oviposition traps?
The insectPRO active gravid trap attract insects in two ways 1) is through a small UV LEDs and 2) due to hay infused water. The ovitraps use hay infused water or simple water for attracting insects for laying eggs. The chances that insects are captured in insectPRO active gravid trap is high due to small LED lights in combination with hay infused water.
How to prepare hay infused water?
Add two handful of hay into 2 liters of water and soak them for 3 days. Few of the items it is useful to add a pinch of yeast for hastening the aging of the liquid to be used in ovitraps
Only 125g of grass is needed to make 15 litres of concentrated infusion which, when diluted to 10%, can service hundreds of ovitraps as it is found that eight litres of 10% hay infusion are required to service 50 ovitraps.

Battery Charger
Battery Charger Supplied

No

Battery Type Chargeable

NA
Power Requirements
Power Requirement

Yes

DC Power Use

Yes

AC Power Use

Yes

Battery Operated

Yes

Battery

4.5 to 12v

Connecting Cable Required

Yes

DC Cable Required

Yes

Rechargeable Batteries

Rechargeable Lead Acid

Are Required Batteries Supplied with the Unit

Yes

Battery Charger

No

DC Power Cable Length

5 m

AC Power Cable Length

NA