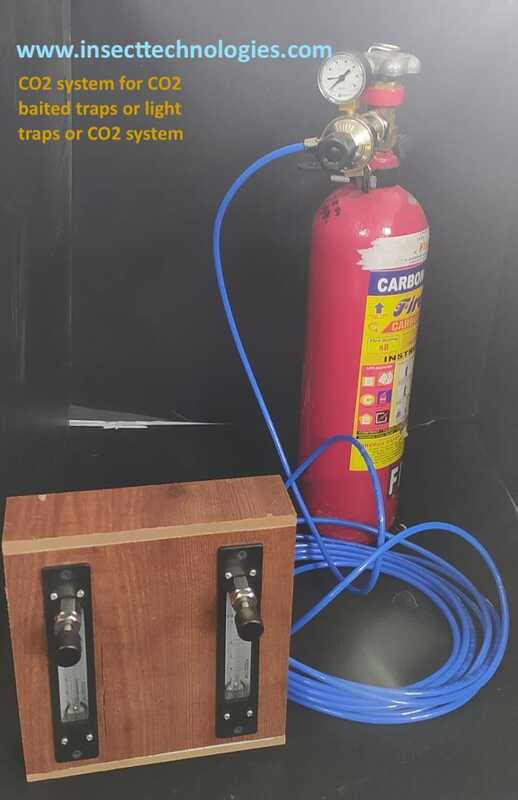 Co2 Baited Light Trap CBLT LI-MR-113
Non-returnable
A CO2 baited trap is nothing but olfactory based cue trap to work with variety of insects. An artificial CO2 is fixed into the trap for effective collections like dry ice. A collection bag that can hold dry ice will be provided which can be used to place the dry ice for effective collection insects.
Description:
CO2 baited light trap is nothing but a standard model of mosquito light trap that can be supplemented with CO2 cue for bettering mosquito catches. It can be done several ways, but we recommend to use either of one of the two recommendations. You may buy dry ice and place it in the bag or container provided along with the trap or you may buy separately a co2 cylinder and a gas regulator along with a flow regulating valve with us to use. Look here for insectPRO CO2 upgrade set here
For all other accessories please visit here.
FAQ:
Is this the same as that of the light trap? and How is it different from the light trap?
Yes, however, the trap does not use light to attract insects. The trap is based on CO2 gas to attract insects. Except that rest of all of the working principle is the same as that of the light trap. Please click here to know more about insectPRO insect light traps
Where to buy dry ice to be used in the trap?
You can get that from any regular chemical and reagent vendors. Or you can approach molecular biology labs or store section who knows the regular arrival of chemicals in dry ice. They can share the dry ice for free to be used in the trap. The store and purchase section can help you to get connected with the source where dry ice can be procured through any approved regular supplier.
I don't have a facility or convenience to use dry ice. Is there any alternative to dry ice so that we will have a freedom of choosing to install the trap at our will?
CO2 upgrade set can be bought from us. High quality micro regulator with inbuilt dual control valve provides precision delivery of CO2 so that a kg co2 can be used for 7 days straight @ of 10hrs per day installation or use.