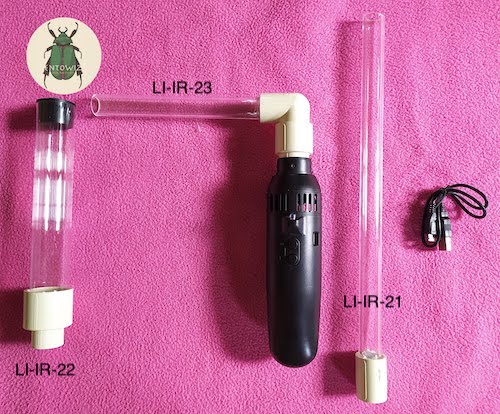 Mechanical Aspirator
Mechanical aspirator to work with insect collections. External battery operated instrument can be used to collect all kinds of insects. The unit has power to control speed of suction thereby limiting damages to a tiny or delicate insects. Works like a charm for all kinds of insect collections. For more advanced, height adjustable collections please consider the Advanced Aspirator. Watch working
video here
Product Details
Specifications
Mechanical Aspirator with an external built battery and an inbuilt LED light features with speed control. The unique ability fo the aspirator is to control motor speed so the collections can be adjusted based on the speed requirement for minimal damages to the insects. The aspirator comes with three different types of collection straws for variety of user requirements; (a) wide mouth 30mm straw opening can be used to collect lepidopteran insects, beetles, flying winged insects, agile mosquitoes like Aedes (b) 14.5mm opening 30 degree bend tip collection straw is for general collections as the angled tip provide exceptional ability to control collections (c) 10mm opening collection for white flies, aphids, or any other small insects that are sensitive to collections by pressure and are small.
Features:
1. Advanced than available mechanical aspirators
2. In-built LED light
3. Runs on generally available mobile power banks in the market. Runs days together on a single charged 10ah battery
4. Battery last longer on single charge
6 . LED indicator for charging level. Small and handy. Simple to hold. No fatigue at all.
8. Sturdy and durable material.
Warranty: One year replacement or repair warranty for whole unit that includes wires, aspirator straws, and the main electronic unit.
CONTENTS: 1 main body | 1 power bank | 3 collection straws | one connecting cable | one carry bag
Disclaimer:
We are not responsible for any damages or accidents that may occur while proper or improper use. Please use only as intended and never try to open, repair or attempt to modify the same. Attempt to do any other work voids not only the warranty, may also cause injuries to the persons. We are not responsible for any damages and or loss occur either to the things or to the persons while using our electronic items that includes insect traps and aspirators
Aspirator
Types of Aspirator

Mechanical Aspirator

Power Requrement

DC

Aspirator Straw

10, 20, and 30cm

Type of Aspirator Straw

Bended at 30 degrees and Straight

Suitable for

Both for Agriculture and Medical Entomology

Warranty on Aspirator

6moths

Warranty on Accessories like Collection Vial and Straw

1 Year

Total Number of Aspirator Straws

3 no's
Battery Charger
Battery Charger Supplied

Yes

Battery Type Chargeable

Lithium Ion Batteries

Capacity of Battery Chargeable

6v

Chargeable Power

1.0 amps

Operation

Auto cut-off feature available
Power Requirements
Power Requirement

Yes

DC Power Use

Yes

AC Power Use

No

Battery Operated

Yes

Battery

4.5v

Connecting Cable Required

Yes

DC Cable Required

Yes

Rechargeable Batteries

Rechargeable Lithium ion

Are Required Batteries Supplied with the Unit

Yes

Battery Charger

Yes

DC Power Cable Length

3 m

AC Power Cable Length

NA