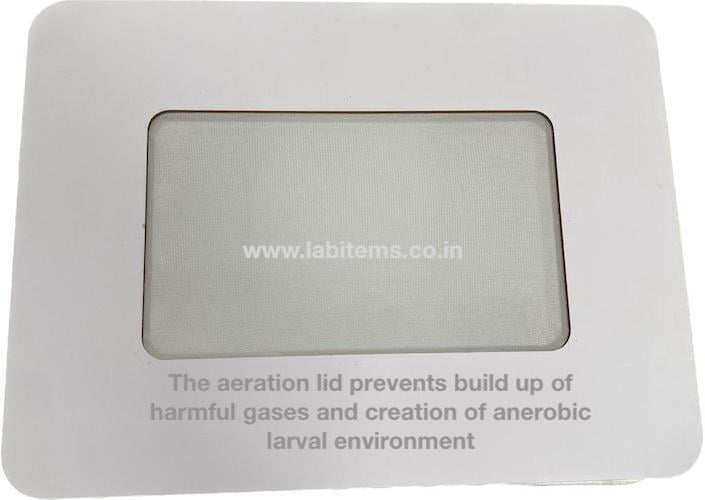 Larval Tray Lid only LI-MR-57
Non-returnable
Larval lids : The water resistant foam material and a no-see-hum mesh for larval rearing trays for aeration and healthy colony growth. Please see that these are only trays. If you wish to buy larval trays only or
larval tray
+
mesh lid please look here
.
Size of the Aeration Hole:
The lid is made of soft foam and has a considerable rectangular cut at the center of the lid for proper ventilation to the larval environment that helps to exchange of outside air at the same time protecting the culture from laying eggs by other escapee mosquitoes. Also, the lid offers protection from developing of scum on the water due to anerobic environment if it happens that the larval tray is closed with plastic hard lid without aeration holes. This larval lid of the trays is washable as and when required without actually damaging the lid any way as these plastics is resistant to easy degradation by chemicals or soaps. However, it is not recommended to wash the tray lid with hot boiling water. Any laboratory grade reagent should be worked to clean the soiled trays to bring them to the original attire.
The complete tray i.e, PP tray and the foam lid can be bought here. These trays are highly recommended to culture healthy mosquito colonies especially when
cyclic
colonies are wished to be maintained years to come.
Only PP tray can be purchased
here.
Zambia mosquito cultivation tray tops, Mozambique insect tray lids, Zimbabwe mosquito larva tray covers, Botswana larval observation tray lids, Namibia mosquito breeding equipment, Malawi mosquito tray tops, Senegal larval breeding tray lids, Ethiopia insect breeding tray covers, Rwanda mosquito larval container lids, Larval rearing tray covers Africa, Mali mosquito research equipment lids, Burkina Faso mosquito tray tops, Lesotho mosquito larva tray covers, Angola mosquito breeding tray lids, Cameroon larval observation tray covers, Gabon mosquito larval tray lids, Ivory Coast (Cote d'Ivoire) mosquito tray covers, Madagascar mosquito breeding equipment lids, Algeria larval tray lids, Egypt mosquito larva tray tops, Morocco mosquito larval tray lids, DR Congo insect breeding tray covers, Sierra Leone mosquito larvae tray lids, Liberia mosquito tray lids, Sudan mosquito larval equipment lids, Guinea larva observation tray covers, Seychelles mosquito breeding tray lids, Swaziland (Eswatini) larval tray covers, Togo mosquito research tray lids, Benin mosquito larvae breeding equipment, Niger mosquito larva tray covers, Chad insect breeding tray lids Africa,

Mosquito larval tray lids, Larval tray covers, Mosquito breeding tray lids, Insect larval tray covers, Mosquito larva container lids, Larvae tray top covers, Mosquito culture tray lids, Larval rearing tray covers, Mosquito breeding container lids, Entomology larval tray lids, Mesh larval tray lids, Larvae research tray covers, Mosquito lifecycle study tray lids, Insect breeding tray tops, Larval cultivation tray lids, Transparent mosquito tray covers, Mosquito larval research lids, Ventilated larval tray covers, Mosquito lab tray lids, Mosquito larvae study tray covers, Insect larvae rearing lids, Larval container lids for sale, Best mosquito larval tray covers, Durable mosquito larvae tray lids, Laboratory larval tray covers, Mosquito research tray lids, Waterproof larval tray tops, Larvae study container covers, Mosquito breeding kit lids, Mesh-covered larval trays, Larval growth tray lids, Protective mosquito larvae tray tops, Larvae incubation tray covers, Insect larval container tops, Mosquito culture container lids, Plastic larval tray covers, Insect rearing tray lids, Ventilated mosquito tray covers, Mosquito larvae protective lids, Secure larval tray tops, Professional mosquito larval tray lids, Research-grade larval tray covers, Mosquito containment tray lids, Mesh-top larval trays, Mosquito larvae observation tray covers, Durable insect larval tray lids, Larval breeding tray covers, Mosquito study tray lids, High-quality larval tray tops, Larvae research tray lids,