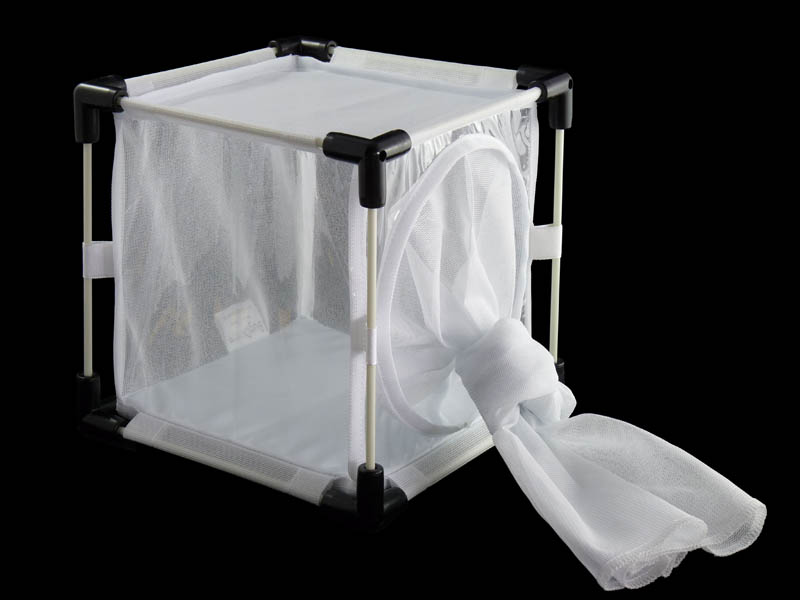 Insect Rearing Cage (96x26) 4S1515
Non-returnable
Insect Rearing Cage (15x15x15cm3, 96x26 mesh). For a working video, please visit
here
https://www.labitems.co.in/product-page/4s1514
Specifications:
Dimensions: W17.5 x D17.5 x H17.5 cm
Net Weight: 140 grams
Main Material: Netting | Polyester
Mesh Size: 96 x 26 | 680 μm Aperture
Opening: 1x Front Sleeve
Description:
The front panel of the 4s1515 insect cage is of clear plastic. Centered in the front panel is a sleeve opening (12 cm diameter) for adding or removing insects and replacing food material. On the left-hand side of the opening is an additional clear panel for easy observation of insect activities. Top and remaining two side panels are of Polyester netting (96 x 26 mesh) for ventilation.
The framework of 4s1515 insect cage is of lightweight fiberglass and constructed outside the enclosure. There are no places for insects to hide inside the cage.
Features:
High quality HDPE plastics

Nylon/polysterine specially weaved nets

Easy assembly

Unending support for parts

Suitable to study insect biology

High visibility to conduct entomological research

Size: 17.5x17.5x17.5cm
You can view
accessories
for parts and replacements