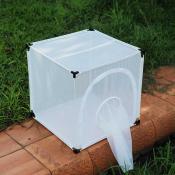 Insect rearing cage 4M4545
Non-returnable
Insect Rearing Cage (44 x 32 mesh | 650 µm aperture) HSN: 3926 Specs: Dimensions: W47.5 x D47.5 x H47.5 cm | 370 gms | Mesh Panel: All EXCEPT floor mesh is used for panels, No clear plastic for visuals; one front sleeve opening Uses: All kinds of insect rearing. May also be used to segregate insect colonies for tests in the green houses. Limited space can be amplified vertically to rear greater varieties of insects with stacking option. https://www.labitems.co.in/product-page/specimen-handling-cage-4m4545d
Specifications:
Dimensions: W47.5 x D47.5 x H47.5 cm
Net Weight: 370 grams
Main Material: Knitted Mesh | Nylon
Mesh Size: 44 x 32 | 650 µm aperture
Clear Panel: None
Mesh Panel: All Except Floor
Opening: 1 x Front Sleeve
Description:
The 4M4545 insect cage is very easy to assemble by simply connecting poles with connectors. The 4M4545 insect rearing cage has Nylon netting (44 x 32 mesh) all around, using no plastic sheet in any of the panels except the floor for better ventilation. There is a 18-cm sleeve opening in the front panel for addition or removal of insects and for replacement of food material. A thin strip is sewn across the ceiling from which to suspend objects such as feeders. The framework of 4M4545 insect cage is of lightweight fiberglass and constructed outside the enclosure. There are no places for insects to hide inside the cage.
For accessories, missing parts and replacements please see here