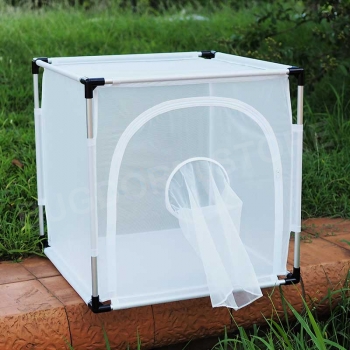 Insect Rearing Cage 6E610
A 60-cm cube, insect cage is suitable for rearing all kinds of insects. The cage also allows to keep a small potted plants inside. All panels except the floor are of fine Nylon netting (150 x 150 mesh) for ventilation. A thin strip is sewn across the ceiling from which to suspend objects such as feeders. The cage is suitable to rear small insects like
mites and whiteflies
.
Dimensions:

W60 x D60 x H60 cm


Net Weight:

1,070 grams


Main Material:

Woven Mesh | Nylon


Mesh Size:

150 x 150 | 160 µm aperture


Clear Panel:

None


Mesh Panel:

All Except Floor


Opening:

1 x Front Sleeve, 1 x Front Zipper
A 60-cm cube, the insect cage is suitable for rearing all kinds of insects. The cage also allows to keep a small potted plants inside. All panels except the floor are of fine Nylon netting (150 x 150 mesh) for ventilation. A thin strip is sewn across the ceiling from which to suspend objects such as feeders.
There are two openings in the front panel of the insect rearing cage. These openings allow to access inner area at different space. The sleeve allows to access inner area for releasing, collection and working with insects while the zipper allows to place bigger than 18cm objects like potted plants into the cage or to clean the standing cage after use. The zippered opening is large enough to insert potted plants. On the zippered opening is a 18-cm sleeve opening for addition or removal of insects and replacement of food without letting insects escape.
The framework of the insect cage is of durable aluminum and constructed outside the enclosure. The design of the cage is such that the promised space inside the cage is available without sagged insect net.