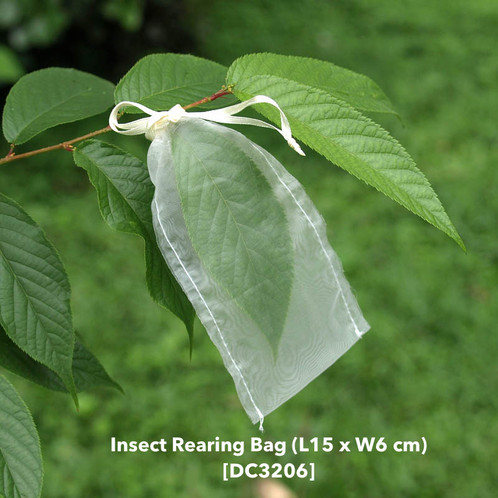 Insect rearing bag (L15 x W6cm) DC3206
Non-returnable
Specifications: Dimensions: L15 x W6 cm Net Weight: 1 gram Main Material: Netting | Nylon Mesh Size: 104 x 94 | 300 μm aperture Insect rearing bag (L15 x W6cm) Slide the bag over the leaves. Tie shut with attached strings. This insect rearing bag of fine Nylon netting (104 x 94 mesh/square inch) is an economical solution for studying insects in-situ and for restricting target insects to a small area. For specs, prices and applications please click below link: https://www.labitems.co.in/product-page/l15-x-w6-bag
Care Instructions
You may wash the cage/bag in mild soap water or shampoo water. Do not use harsh chemicals for sterilization. Or you may slightly rub the cage or tent with sponge + water or shampoo. Rinse the cage in running tap water (do not twist the cage) and air dry.
Specifications:
Dimensions: L15 x W6 cm
Net Weight: 1 gram
Main Material: Netting | Nylon
Mesh Size: 104 x 94 | 300 μm aperture
Description:
Slide the bag over the leaves. Tie shut with attached strings. This insect rearing bag of fine Nylon netting (104 x 94 mesh/square inch) is an economical solution for studying insects in-situ and for restricting target insects to a small area.
NOTE: Bags are sewn with single stitches. Distance between stitches is about 4 mm. Therefore, these bags may not be suitable for rearing very small insects. You need to inform us if you wish to rear smaller insects so we can customize the same for you