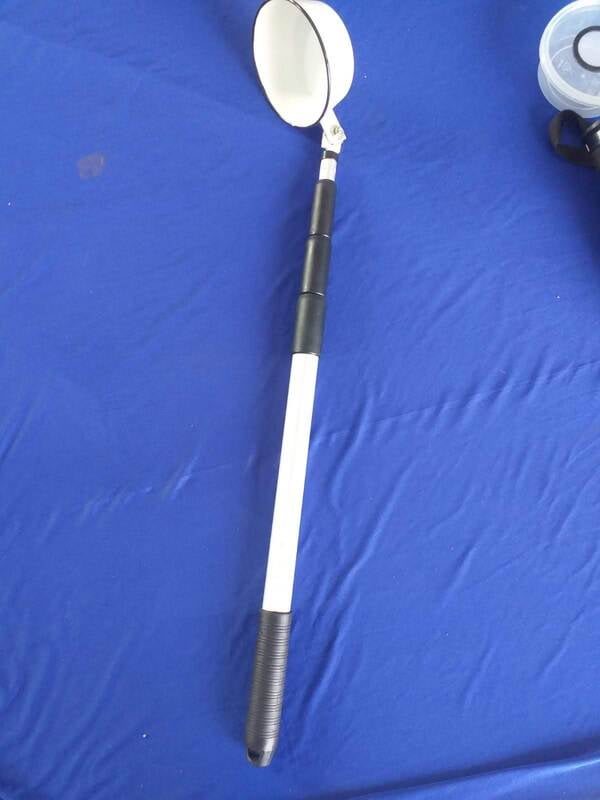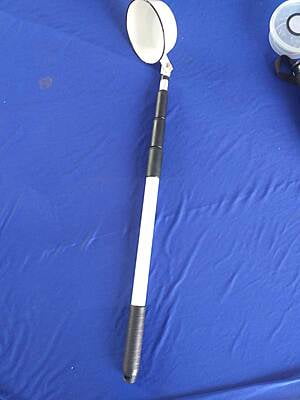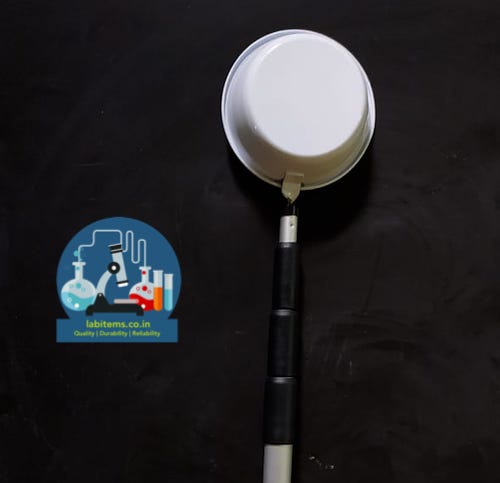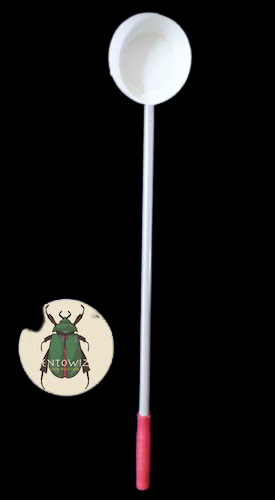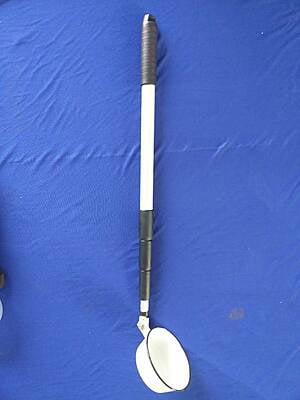 Larval Collection Dipper for mosquito larval sampling
Non-returnable
Enamel or ABS dipper with Various Lengths
Description:
entoWIZ field larval collection dipper for mosquito larval collections. Made of high-quality enamel dipper pure to off-white in colour with a wide mouth angle for snug fit with an aluminium handle. The pure white color background of the dipper makes easy to view the collections for further sampling. The fixed length handle can be chosen from 60 - 90cm length. Usually, we ship the fixed length laddle with a 60cm aluminium handle.
Larval dipper/laddle for mosquito larval collections. Made of metal base coated with Enamel these dippers are make to rugged use. Since made of metal they can be expected to be durable and last long. The pure white colour background of the dipper makes it easy to view the collections for further sampling. To improve the efficiency of the larval dipper in collecting larvae, the outer portion of the dipper is coated with a black colour. The laddle length aluminium, 3-seg, L53-107 cm. The 4-seg handle L61-141 cm can also be purchased with additional cost.

For buying telescopic handlesof various lengths, please visit here
field larvae collection dippers, field larvae collection tools, insect collecting equipment, entomology tools, insect nets, insect collecting supplies, larva sampling equipment, aquatic insect nets, aquatic insect sampling tools, insect specimen collection tools, insect trapping tools, insect collecting gear, butterfly nets, butterfly collecting equipment, insect catching equipment, bug collecting supplies, insect collecting devices, insect collecting kits, entomology collecting tools, larva sampling gear, aquatic insect collecting gear, insect specimen collection supplies, insect trapping gear, insect collecting accessories, butterfly collecting gear, insect catching gear, bug collecting devices, insect collecting materials, entomology collecting equipment, larva sampling accessories, aquatic insect collecting materials, insect specimen collection devices, insect trapping accessories, insect collecting resources, butterfly collecting materials, insect catching materials, bug collecting resources, insect collecting resources, entomology collecting accessories, larva sampling resources, aquatic insect collecting resources, insect specimen collection materials, insect trapping resources, insect collecting tools and equipment, butterfly collecting accessories, insect catching accessories, bug collecting tools, insect collecting techniques, entomology collecting materials, larva sampling techniques, aquatic insect collecting techniques, insect specimen collection techniques, insect trapping techniques.