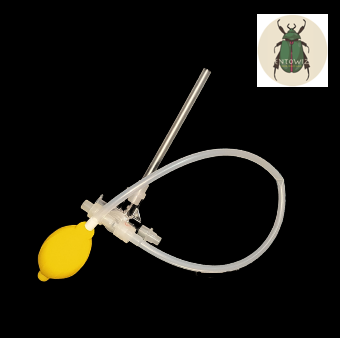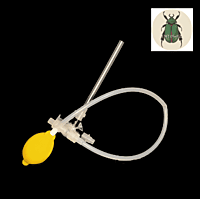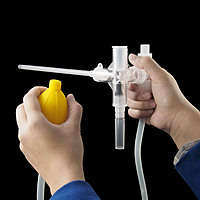 HB Type Aspirator w/6 or 8 or 12 mm Pick-up Straw
Non-returnable
The blowing kit can be attached to any
manual mouth sucking aspirators
to convert them into
semi-mechanical pooters
. The one end of the silicone tube of the blowing kit is attached to the mouthpiece of manual aspirator. Upon pressing the yellow bulb of the blowing kit, the negative pressure is created at the tip of the aspirator which sucks the insects similar to mouth sucking. Great tool to reduce fatigue due to mouth sucking of insects. HB working video is here. Other recommended product is
Mechanical Aspirator
.
Product Details
Specifications
Specifications:
Dimensions: Varies by the style
Net Weight: 135 grams
Main Material: Plastic | Polystyrene
Pooter Style: Blowing-type | H-shape
Uses: to collect small insects like white flies, jassids, aphids, etc.
Precaution: Sometimes you might see more dead insects in the collections. You need to press the yellow silicone bulb bit less to exert less pressure at the tip of the collection straw.
Description:
To draw insects into the collecting chamber, most aspirators or pooters are designed to suck air through mouth to create negative pressure. Some insects, such as ants and beetles, can emit particles harmful to the human. There are also situations when insects are to be collected from feces or carcasses or from dusty places. Our HB-type aspirators decrease risk of swallowing hazardous particles by allowing insect collections semi-automatically. This bulb operated aspirator eliminates mouth sucking of insects. For more details, please check video instructions.
A total of four vials, two numbers each of the DP0036, DP0079-5 are included for insect collecting and insect storing use.
For accessories, missing parts and replacements please see here
Aspirator
Type of Aspirator

Semi Manual Aspirator

Battery Power Needed

No

Convertible to Semi-Mechanical Aspirator

NA

Dia of the Aspiration Straw Opening

6 or 8 or 12mm

Length of Aspiration Straw

10 cm

Collection Tube Type

Straight

Suitable for Collection of

For both Insectary, field work

Suitable for Height

5-7 foot height

Length of the Silicone Tubing

60-90 cm

Regular Cleaning of Collection Tubes

Yes, Only with DD water

Material used

Plastics + Silicone