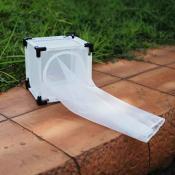 Insect Rearing Cage 4M1515
Non-returnable
Insect Rearing Cage (15x15x15cm3, 96x26 mesh)
Recommendations
For all general insect rearing like mosquitoes, winged and wingless insects. The size restriction of insects are applicable. Good to use above 1mm size insects. For Whiteflies, midges and mites or similar size insects, please refer to 4E/6E or 2120E series cages
Care Instructions
SmOperating temperature of the cage: -10 to 60 C When trying to take the assembled tent/cage apart, you may find a few poles locked to the connector. DO NOT FORCE THEM APART or you may rip the seam and damage the cage/tent completely. Instead, try finding a looser connection elsewhere in the cage or connector.  Please call us if you have any issues in dismantling the cage. Please never attempt to remove the tightly locked connector poles forcefully, which may damage the cage. You may wash the case in mild soap water or shampoo water. Do not use harsh chemicals for sterilization. Or you may slightly rub the cage or tent with sponge + water or shampoo. Rinse the cage in running tap water (do not twist the cage) and air dry.
Specifications:
Dimensions: W17.5 x D17.5 x H17.5 cm
Net Weight: 140 grams
Main Material: Knitted Mesh | Nylon
Mesh Size: 44 x 32 | 650 µm aperture
Clear Panel: None
Mesh Panel: All Except Floor
Opening: 1 x Front Sleeve
Backbone framework: Fiberglass
Description:
The 4M1515 insect cage has Nylon netting (44 x 32 mesh) all around, using no plastic sheet in any of the panels except the floor for better ventilation. Centered in the front panel is a sleeve opening (12 cm diameter) for adding or removing insects and replacing food material.
The framework of 4M1515 insect cage is of lightweight fiberglass and constructed outside the enclosure. There are no places for insects to hide inside the cage.
For accessories, missing parts and replacements please see here