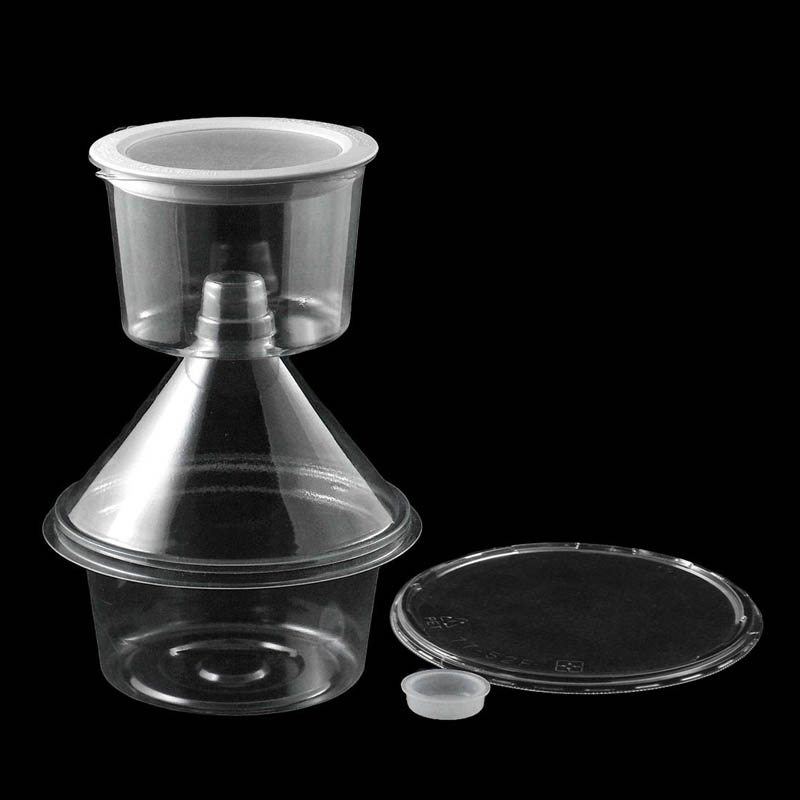 Mini Emergence Trap or Mini Breeder for Insects Rearing (Nylon screen)
Non-returnable
The mini emergence trap / insect breeder provides a simple method for rearing insects, such as mosquito larvae and other insects on live plant material. Field collected mosquito larvae have inherent infections. Carrying them directly into the established insectary poses serious threat to the existing cyclic colones as they have been growing in the optimal climate condition for years. For this, a field collected water sample containing larvae is placed in the bottom container and wait to get the adult mosquitoes emerge in isolation. Emerging adults will fly into top collection cup through the vinyl funnel. Nylon screen on top allows good ventilation. Collected adult insects can be remove easily using an aspirator.
Advantages:
For rearing and maintenance of mosquito insectaries will be easy and less cumbersome. Place fourth instar larvae or pupae in the bottom container and leave till adult emergence. No need to visit insectary during weekends or holidays to care for the unwanted emergence into the lab. You have a provision to place sugar soaked cotton pad on top of the container so the emerged insect can be easily fed.
Field collected immature stages of insects can be grown into adults without disturbing their natural environment. This is especially helpful when immature stages of insects are obligates on the live plant material
A small scale plant-insect interactions can be conducted in a limited scale
NOTE: When assembling, push top collection cup against the inverse funnel until it sits firmly on funnel. *Available in pack of 6. For accessories, missing parts and replacements please see here
Application in Medical Entomology
(a) These emergence traps are excellent to rear field collected mosquito larvae separately into adults. This will avoid unwarranted contamination of the laboratory adopted insects with fungus and bacteria. (b) Increase the production by optimizing the insectary space. Since the bottom bowl is 1000ml and can hold up to 500-600 pupae, separately 10 units can hold almost 5000 pupae which is more than optimum for any regular insectaries requirement. (c) Increases human resource efficiency. These traps help avoid visiting the insectary only to do regular colony maintenance during holidays or weekends. A pupae emerged during Friday can be hold in these emergence traps so the adults are flied to the top insect holding container where sugar can be kept for the adults.

Applications in Sand flies
Sandflies or any other flies that grows on the mud can be easily be reared. Since these emergence traps are made of plastics, the cleaning and maintenance is easy.