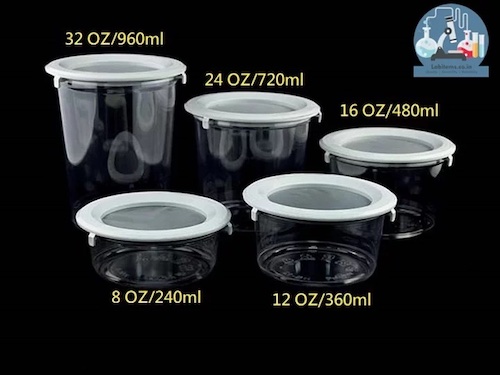 Insect Containers from 240 to 960ml
Non-returnable
Size or Volume of the Container
Product Details
Specifications
Similar kind of insect containers 250ml, 480ml, 760ml are available along with small (2.5cm), medium (50mm), large (90mm) petri dishes for bioassay studies. For rearing insect colonies consider to get a bigger containers. For studying insect-plant interactions visit insect rearing bags section here.
Description:
Small to large in size 240 - 960ml with good visibility, these pint-sized containers are ideal for raising or breeding small colonies of disease vectors in labs with restricted space. These containers are also used to shuttle the mosquito colonies from one place to another. These can serve as temporary enclosures to conveniently restrain insects caught in the field.
The highly breathable screen pre-installed on the donut lid top snap cap is of 24 x 24 mesh netting made of nylon used especially for insect rearing. Tainted screens can be easily replaced with fresh ones sold separately or substituted by your own screen materials.
The donut lid of the pint-sized insect pot has a matte surface for penciling notes. To assemble a pint-sized insect pot, simply snap down 3 built-in clips around the rim to secure the lid to the pot.
Features:
Clear visibility
Unique snap cap feature prevent the escape of disease-carrying mosquitoes in the event of accidents
Can be to study mosquito biology like mating behavior
Can be conveniently carried to the field to collect small collections of mosquitoes
Handy size made these containers convenient to carry to field collection in multiple numbers that can service to store and distinguish location-wise collections
Rear field-collected mosquitoes where restricted space prevent using large cages

Applications:
1. Larval assays: No fear of mixing with accidentally fallen containers since the mesh prevent flowing of larvae along with treated water. The locked lid never come out unless you open the locks
2. Carrying adults: Traditional carrying insects between spaces within the laboratory or between institutions require fastening mesh around the container, which can easily come off with mild disturbances
3. Separately rear field collected larvae until they become pupae so microbial infections will not spread in the insectary from field collected larvae
4. Can be used to hatch larvae till 2 instars. Transfer the grown larvae into rectangular enamel trays
Variants available:
Dimensions: W125 x H49 mm | 240 ml
Dimensions: W125 x H66 mm | 360 ml
Dimensions: W125 x H83 mm | 480 ml
Dimensions: W125 x H114 mm | 720 ml
Dimensions: W125 x H150 mm | 960 ml
For accessories, missing parts and replacements please see here
Bioassay Trays
Reusable

Yes

Transparent

Yes

Need ribbon or rubber band to tie the plates together

Not necessary

Access to individual cells

Yes, Individual cells as separate lids

Material

Polystryrene and Nylon mesh